Bouquet 16
What can you think about but spring, when it's spring time? Do you also feel this amazing scent of warmth, first blooming flowers and sunshine? This bouquet will definitely melt any heart and remind of the spring.
Stems: cymbidium orchids (boat orchids), roses, spray roses, eustoma (lisianthus/prairie gentian), hyacinths, delphiniums (larkspurs), lilacs, myricas (bayberries).
Greens: eucalyptus (gum-tree).
Design: mat cellophane wrappingm decorative strings.

We offer free delivery for orders from 2000 ₽ (excluding remote areas of the city). For details click here.
We will deliver this bouquet carefully and safely within 2 hours.
Important!
All our bouquets are unique. Some flowers and materials are seasonal and may not be available at the moment, so we reserve the copyright to determine the final composition of the bouquet. But we promise that the bouquet will remain as stylish and unique.

The price is valid only for the online store and may differ from the prices in retail stores
Together is more profitable
Complete your gift
Features of the delivery of our bouquets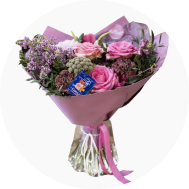 All bouquets are additionally installed in plastic vases with water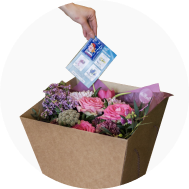 We carefully pack a special flower-feeding product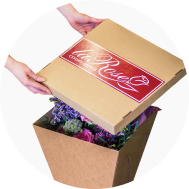 Bouquets and arrangements we deliver in a box to preserve the quality and freshness of flowers